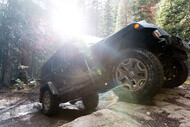 Experience the thrill of adventure with our BFGoodrich off-road tyres
Our off-road tyres offer you the keys to an unforgettable adventure behind the wheel of your 4x4. With them, you can drive off road whatever the terrain in unexplored locations with a total sense of freedom
Find out how we've won numerous off-road competitions. And let us advise you on the best 4x4 tyres.

BFGoodrich tyres and motorsport competition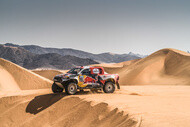 Competition allows you to push your limits and to surpass yourself. An adrenaline rush to reach the finish line before the others. 
That's what we like at BFGoodrich, and that's why we've been involved in motorsport competition for so many years.
Every race is full of twists and turns and excitement. It thrills spectators as well as participants, from mile to mile, until victory is declared.
Since our first win in the Baja 1000 in 1972, we have renewed our commitment to motorsport competition every year by providing durable, high-performance BFGoodrich tyres.
Thanks to the cutting-edge technology that we are constantly tuning, our history is defined by numerous titles won in off-road competitions.
From the deserts of Baja to the badlands of Dakar, if our tyres have driven in the mud, bitten the dust, raced run over stones, endured the heat and the bangs.
We are proud of our achievements:
More than 31 consecutive Baja 1000 wins from 1986 to 2007
18 Dakar victories from 1990 to 2022
17 victories in the Morocco Rally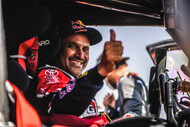 We have been able to win the titles that have defined our history with tyres specially developed for off-road competitions. All of them strong, fast and suitable for difficult terrain, such as:
the BAJA KR3
the KRAWLER T/A KX
the BAJA KR2 4X4
the KRAWLER RED LABEL
the BAJA T/A
the BAJA KR2 SSV / ATV
the KR2 SSV / ATV
But you don't have to be a professional driver to enjoy exciting off-road trips and have fun driving to the rhythm of the terrain because we also manufacture off-road tyres especially for you!
Why choose our off-road tyres for your 4x4 ?
For your adventures with your 4x4 on rough terrain, strenght is of course an essential requirement, and that is precisely what our BFGoodrich All-Terrain T/A KO2 tyres are all about, thanks to the following features:
a stronger sidewall to resist nicks on the toughest roads
a thicker and wider shoulder to protect the structure
self-locking 3D sipes for off-road traction
For muddy terrain, the BFGoodrich Mud-Terrain T/A KM3:
its anti-mud bars that evacuate compacted soil and its strong grip on smooth surfaces as well as on rocks, even when under-inflated
its very resistant sidewall designed to withstand shocks and scratches.
If you love off-road driving, BFGoodrich is the tyre for you.
Ready for adventure?