DAKAR 2020 : BFGoodrich is proud to present you the RedBull Off-Road Junior Team USA ! 
Three youngs Americains : Mitch Guthrie Jr. (23yo, centrer), Blade Hildebrand (21yo, left) et Seth Quintero (17yo, right) will race in different off-road championship all over the World with BFGoodrich tyres !  
Mitch Guthrie Jr. and Blade Hildebrand will launch theirself into their first Dakar on the 5th of January with their SxS ! Keep you eyes opened, it will be rad ! 
DAKAR 2020: Technical check!
Last week at Le Castellet, the technical check took place. It was the last effort before the departure to Saudi Arabia. Teams presented their vehicles to Dakar Organization: stickers were stucking, technical elements were validated, etc… And we have seen a lot of BFGoodrich tyres… Drivers and BFGoodrich brand are ready for a new adventure!
Stay tuned for more information…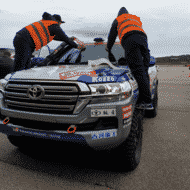 DAKAR 2020 : Win a gift !
DAKAR 2020: If you want to win a Dakar package, follow us on social media! 😊
DAKAR 2020: Let's go for a new adventure!
BFGoodrich is proud to announce officially its participation as official tyre supplier of the Dakar 2020.
For the 1st Edition in Saudi Arabia, BFGoodrich tyres will have to face news territories, but always dunes, rocks, etc... From Jeddah to Qiddiyah, drivers will race 7800km through 12 stages.
For this new chapter, you cannot imagine how news rules will challenge drivers. You are wondering: "why?" Just because for some stages of the rally raid, the roadbook of the day will be given only few minutes before the start… To come back to the essence of the most extreme rally raid in the world!
BFGoodrich tyres KDR2+, KM3 and KM3 SSV are ready to perform!
More information to come… Stay tuned!